There was more than enough blame to go around after one 20-year-old recounted her reaction to her roommate's twisted lesson on proper home security.
In a viral Reddit post published on r/AmITheA**hole, Redditor u/morefurriesplease (otherwise referred to as the original poster, or OP) said she has butted heads with her roommate over keeping the door locked but explained how a poorly executed prank left both women seething.
Titled, "[Am I the a**hole] for blatantly pretending my roommate doesn't exist because of her 'robbing prank?'" the post has received nearly 5,000 upvotes and over 1,000 comments in the last eight hours.
"I…live in a very safe city," OP began. "Due to this and lack of parental regulation as a kid, I never locked my doors."
Continuing to explain that her distaste for deadbolts has never been an issue before, OP said that her new roommate, a 19-year-old woman, suffers from extreme paranoia and anxiety, and prefers to keep doors locked at all times.
OP added that, after she failed to lock the door multiple times, she was shocked to find all of her belongings had been stolen—or so she thought.
"I came home a week ago [and] there was s**t everywhere. It looked like a mini tornado whirled through my apartment," OP wrote. "I went in my room and my TV was gone, my mini boba fridge was gone…so much of my clothes vanished.
"I was worried for my roommate's room [but] she was sitting there waiting for me," OP continued. "She had all my things in there. Pranked me to try to teach me a lesson about locking the door.
"She said I should have 'assumed' that I need to lock the door out of respect for a shared living space," OP added. "After trivial arguing I [shut the f**k up] and went mute…I have completely ignored her since."
There were more than 900,000 burglaries in the U.S. in 2020, according to the FBI's Crime Data Explorer.
But while additional data published by the FBI indicates a massive downward trend in burglaries—numbers have dipped by more than 50 percent since 2010—there is a new break-in every 26 seconds.
Unsurprisingly, burglars are most attracted to homes without security systems. And according to Alarms.org, only 17 percent of homes are equipped with functioning security systems, indicating that an overwhelming majority of homes are effectively sitting ducks, ripe for the picking.
Alarms.org also reports that, of the break-ins that occur across the U.S., 95 percent require some form of forced entry.
However, there is little need to pick a lock or break a window when a home's front door is left unlocked.
In her viral Reddit post, OP described her roommate's paranoia symptoms as thinking there are cameras in the sink, assuming bugs are in her bed and sleep paralysis. She also noted that her roommate assumed she would start locking the door when they started living together.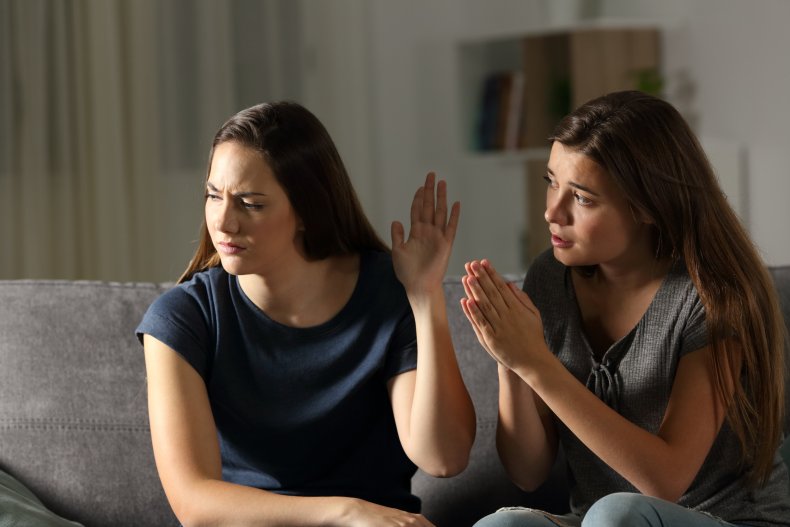 Throughout the viral post's comment section, Redditors acknowledged the totality of OP's description, as well as her roommate's preference for locked doors and agreed that neither party is blameless and that both OP and her roommate failed to act appropriately given the circumstances.
"[Everyone sucks here]," Redditor u/StAlvis wrote in the post's top comment, which has received nearly 12,000 upvotes. "LOCK THE DAMN DOOR.
"It does not matter how you were raised," they added. "The second you started living with others, the game changed."
"Your roommate isn't blameless," Redditor u/FPFan interjected, receiving more than 3,000 upvotes. "But you are also an [a**hole]."
Redditor u/Puzzleheaded-Jury312, whose comment has received more than 4,000 upvotes, echoed that sentiment.
"You know how when…something horrible happens and you see that neighbor on TV who looks panicked and says, 'This kind of thing doesn't happen here?'" they wrote. "That's you…lock your door, [especially] in a roommate situation.
"That is not to excuse what your roommate did," they continued. "I get the point she was trying to make, but the way she did it wasn't acceptable. Sounds like she may need help and you need a new roommate."
"[Everyone sucks here]," Redditor u/EwokCafe chimed in. "What she did was appalling, but your current approach isn't going to solve anything. You can't fix lack of communication by increasing lack of communication."
Newsweek reached out to u/morefurriesplease for comment.