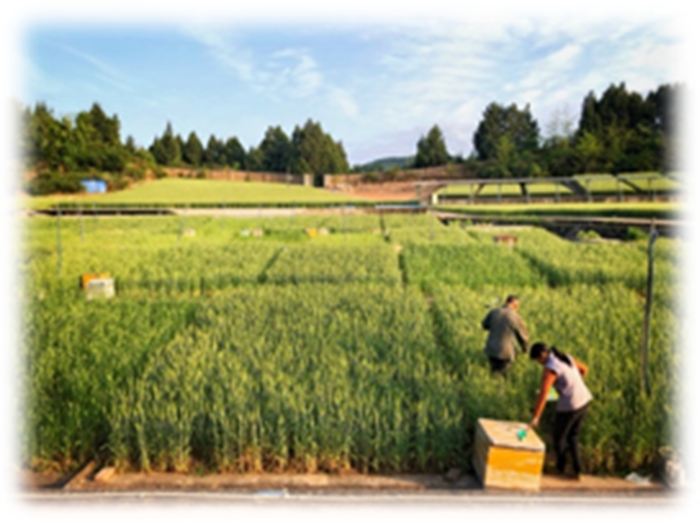 Synthetic nitrogen (N) fertilizer has substantially increased crop yield and played a crucial role to feed the growing population. However, reactive N can loss via different pathways and induce severe environmental problems such as non-point source pollution and ground water contamination when not properly applied. Considering the economic and ecological importance of the Yangtze River, its protection is now attracting great attentions from not only scientists but also the public. Purple soil concentratedly distributed in the Sichuan Basin and covered the upper reaches of the Yangtze River. Therefore, reducing nitrogen loss from sloping cropland of purple soil via improved fertilization strategies could make an important contribution to mitigate non-point source pollution in the upper Yangtze River.
As a leading scientist, Prof. Bo Zhu from Institute of Mountain Hazards and Environment, Chinese Academy of Sciences has led a team to evaluate how different fertilization strategies especially organic-substitution fertilization may influence nitrogen loss from sloping cropping system of purple soil. The results of this study are expected to establish fertilization regime with minimum nitrogen loss from this ecologically fragile area.
Crop residue and pig manure are common agricultural organic by-products, the organic carbon from these organic amendments may slow down nitrogen release compared with synthetic nitrogen fertilizer thus reducing nitrogen loss through synchronized nutrient release and crop demand. This study clearly indicates that the nitrogen loss of synthetic nitrogen fertilizer can be high and the main loss is through interflow followed by sediment and overflow losses. Using crop residue and pig manure to partly replace (20%–40%) synthetic nitrogen can maintain high crop yield and significantly reduce the N loss from the main pathways by up to 68%. Additionally, the yield-scaled nitrogen loss can also be reduced by synthetic N substitution of crop residue and pig manure. Introducing agricultural by-products to the fertilization regime can achieve the dual-purpose of recycling the wastes while reducing the risks of non-point source pollution of the Yangtze River by minimizing nitrogen losses from sloping cropland.
This study has been published on Frontiers of Agricultural Science and Engineering in 2022, DOI: 10.15302/J-FASE-2022456
###
About Frontiers of Agricultural Science and Engineering
Frontiers of Agricultural Science and Engineering (FASE) is an international journal, which is aimed to publish papers that advance the understanding of scientific, technological/engineering, socioeconomic, institutional/policy and management factors that drive current and future agricultural productivity and sustainability. Our goal is to use FASE as a platform to foster scientific information flow, stimulate transdisciplinary inquiries that have strong multi-disciplinary connections, and cultivate research and idea exchanges that address agricultural sustainability challenges regionally and globally.
FASE is an open-access journal published quarterly with no page charges. Contributions may include cutting-edge research, science news, commentaries, perspectives, or reviews. In addition to publishing regular review and research articles, the journal also publishes 'Hot Topic' issues that focus on strategically selected subject matter of high impact, or emerging concerns to address future agricultural development pathways at regional and global levels, and are guest-edited by scientists in their areas of research. Proposals for special issues are welcome and can be submitted any time.
---
Journal
Frontiers of Agricultural Science and Engineering
Method of Research
Experimental study
Subject of Research
Not applicable
Article Title
EFFECTS OF SUBSTITUTION OF MINERAL NITROGEN WITH ORGANIC AMENDMENTS ON NITROGEN LOSS FROM SLOPING CROPLAND OF PURPLE SOIL
Article Publication Date
9-Sep-2022
Disclaimer: AAAS and EurekAlert! are not responsible for the accuracy of news releases posted to EurekAlert! by contributing institutions or for the use of any information through the EurekAlert system.